The sea around Samothrace is one of the richest in the Mediterranean regarding marine life. The island combines a wide range of activities, such as marine sports, underwater fishing, diving.
The coast of Samothrace is crystal clear, covered with white "pebbles". On the south of the island close to Lakkoma, Pahia Ammos is waiting for you, a beautiful beach covered with sand. Then you meet the exotic Vatos with trees and cold water, Kremastos waterfall whose water fall foaming in deep blue sea both in winter and summer. Finally you confront the breathtaking spectacle of geological formations, which the locals call "Tis Grias ta Pania '. The endless beach of Kipoi, with a dark gray pebble, revealing some of the secret beauties of Samothrace.

The sea and the coast is a whole different world that welcomes you with Delphinus delphis dolphins, shags Phalacrocorax aristotelis and the Monachus monachus seal finding temporary refuge in the southeastern coastal cliffs.
Paxia Ammos
Renowned

as the most beautiful

beach

of the island and

is

one of the few

sandy

beaches

of Samothrace

.
The only

sandy beach

which you can access

by road,

which

is about

20 km

from Kamariotissa

. Although the road

is paved

, the route

is relatively

difficult because of the tight

structure

and uphill

road

.


The locals are willing to give you the necessary information and advice to reach without any special problems. The crystal clear waters and fine sand reminiscent Cyclades, while the music from the beach bar, gives a cosmopolitan air.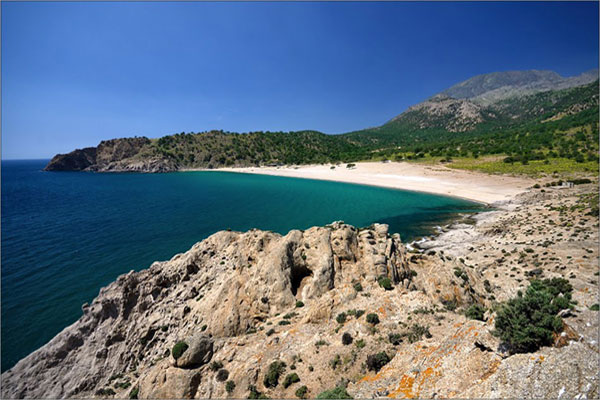 Vatos
Beautiful sandy beach, surrounded by high cliffs with caves. Further east is the famous waterfall

Kremastos

.
The crystal waters fall

from the top

off the waterfall directly into

into the sea

.
Exotic

and yet

wild

place

, with caves, waterfalls

and

crystal clear

waters

and

rocks

,

reachable

only

by sea.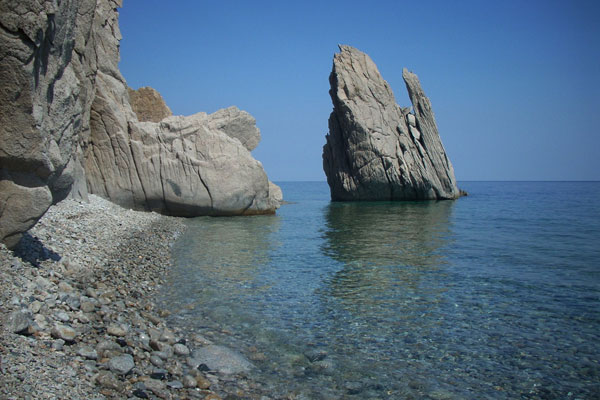 Kipos
Called the

Kipos (garden),

because they say

that during the Hellenistic period

there was a

large garden.

Beautiful

beach with

cliffs

on

the southwest coast

of the island. Accessed

by boat from

Therma

or

Kamariotissa. Located at the end of the road, 29 km. from Kamariotissa

and is

the last

endless beach. The forces of nature and tectonic fractures, created a wonderland location and beautiful beach, at the eastern end of the basic highway.


Being

created

by volcanic

activity

, this beach

is characterized by

its wild

beauty

.

Decorated

with large black

pebbles

and

surrounded

by

enormous

cliffs

.

You'd think

that ...

all roads

leading to it, because here

ends

the

highway

of the island

!